Angelina Jolie: Vegan Diet Nearly Killed Me
by Alan Cooper
(Editor)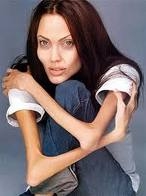 How vegan diet left Angelina Jolie scary skinny
Superskinny "Salt" star Angelina Joilie has ditched her vegan diet, saying it left her malnourished and constantly craving a "big juicy steak".


"I joke that a big juicy steak is my beauty secret. But seriously, I love red meat. I was a vegan for a long time, and it nearly killed me. I found I was not getting enough nutrition," Jolie (35) said recently.
Ironically, news of Jolie abandoning her vegan diet was followed closely by former US president Bill Clinton revealing he'd given up junk food in favor of an almost totally vegan diet.
Go figure...