Latino Obesity
Breakfast Food Giant Blames Lack of Exercise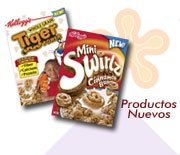 A "healthy" breakfast of Rice Krispies or Frostees is clearly not enough to stem the rising tide of Latino Obesity.
That's one of the results that emerged from a recent survey by breakfast food giant, Kellogg, though it's one message the company is not exactly shouting from the rooftops. Instead, you'll find it buried between the lines of a Kellogg media statement released in July 2004. For decades, nutritionists have stressed the importance of a healthy breakfast in combatting obesity. Breakfast food companies like Kellogg have seized on this relentlessly to market their ever expanding line of products ... many of them coated with fat-producing sugar.
So, it must have come as something of a shock to discover in their survey of Latino families that 64% of respondents indicated that breakfast was the most important meal of the day, with 65% saying they eat breakfast daily.
And the most common choice for breakfast?...
Yup, you've guessed it - cereal! So, if so many Latinos have been following the "healthy" breakfast cereal routine, why are Latino obesity levels on the rise? Kellogg blames this on a lack of exercise.
Now, exercise is certainly an important factor. A very important factor.
But don't tell me that the fact many Latino families have been starting their day on a sugar high hasn't had just a teensy-weensy bit to do with Latino obesity levels.
Cereal Offender Update
The FDA, under the Obama Administration is starting to clamp down on some of the bogus claims made by breakfast cereal companies.
These include claims that eating Kellog Frosted Mini-Wheats made kids 20% more attentive and that eating Cheerios can lower your cholesterol by 4% in six weeks.
---

---
Stay informed. Subscribe to our free newsletter...