Plastic Surgery for Weight Loss
By Taryn Lavigne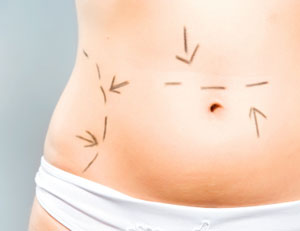 Weight loss can be an extremely difficult process for a lot of people, particularly those who are aging or who are seriously overweight. To properly lose substantial amounts of weight and then keep that weight off requires strict dietary discipline and, ideally, regular exercise. However, due to any number of reasons ranging from busy lifestyles to lack of discipline, or simply the aging process, many people just can't make themselves lose significant weight on their own. This is why a large number of these people end up turning to alternative means of weight loss, such as plastic surgery, which can actually offer a number of different solutions that fall under the category of weight loss.

The first and most obvious procedure that comes to mind to affect weight loss in an individual is liposuction, which does technically fall under the heading of plastic surgery. There is a common misconception that liposuction is only to be used in drastic cases, or for the dangerously obese. However, while these situations can indeed sometimes be remedied by liposuction, the procedure can be used more or less for any degree of weight loss. Essentially, a liposuction procedure involves a surgeon physically removing excess fat from your body. This usually occurs in the belly area, but can be used to help weight loss all over the body.


One less obvious way in which plastic surgery can help with weight loss, at least in women, is breast augmentation. If you do a bit of research on the subject, you will quickly learn that it is not all about enlargement and breast implant sizes. In fact, breast reduction surgeries have become quite common, and can be used as a means of weight loss, or to increase comfort. If you are a woman and you feel that some of your extra weight is lodging itself in your breasts, this is something that you may want to consider. At the very least, speak with a doctor to see if a breast reduction would be appropriate or helpful.

Ultimately, the most effective way to go about long-term weight loss is still by natural means such as diet and exercise. However, if your main focus is on losing significant weight quickly, or if you are having trouble shaving off pounds by natural means, there is no shame in turning to plastic surgery. The procedures mentioned above, and countless others, are used quite frequently by all kinds of people who are looking to lose weight. One of these procedures may very well help you to get back to the starting point you are looking for.
Taryn Lavigne is a long time blogger covering a range of topics including pop culture, health and politics.