Jamie Oliver's School Dinners Crusade in Trouble
by Alan Cooper
(Editor)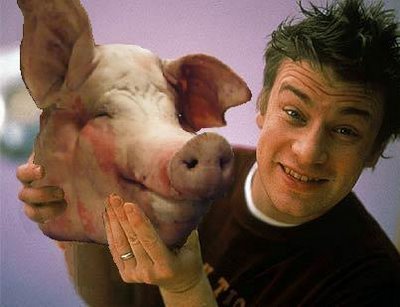 Pig Headed: Jamie Oliver has accused UK government ministers of ignoring research on the benefits of healthy school meals
Celebrity Chef Jamie Oliver is worried that his healthy school meals campaign could collapse because of lack of support form government ministers in the UK.


In an interview with the Guardian newspaper, Oliver accused the education secretary, Michael Gove, and the health secretary, Andrew Lansley, of ignoring research showing that nutritious lunches improve learning.
Oliver said: "Honestly, I'm very worried... I would love to believe that Mr Gove has school food high on his agenda, I've not heard anything so far worth celebrating.
"I'm sure he realises that there are clear benefits to having good food in school: it improves a child's behaviour, willingness to learn and concentration at school, and that in turn helps children to achieve more and perform better.
"You would have to be an idiot to ignore all of the academic research that's been published to support these things, but still I don't see him or his ministerial colleagues in health actually doing anything to ensure that the improvements we have made over the last six years remain in place and are built upon – instead the progress we've made seems to be at risk.
"We simply can't afford to cut costs in prevention work now because we will have an even bigger bill in the future. It's like any business: you have to invest in the short term to see a longer-term benefit," Oliver told the Guardian.