Obesity Cures Blog
Welcome to The Obesity Cures Blog. In this regularly updated mini-journal, I'll let you know whenever any new Web pages appear on ObesityCures.com, or whenever I make any changes to popular or important pages you should know about.
I'll also tell you about any breaking obesity, diet or weight loss news I encounter.
Why trawl dozens of web sites for obesity-related news when you can get it all in one place? Subscribing to The Obesity Cures Blog is really easy and you don't have to give out your email address.
All you have to do is right-click on the orange RSS button on the bottom left of this page and then paste the URL into your RSS reader. Or, you could click on the My Yahoo! button or My MSN or Add To Google button if you keep a personalized home page there. If you are not sure what RSS and blogging is all about, DON'T PANIC!
Simply click on the "What's an RSS Feed?" link (it's also on the bottom left margin). Once you start, you will be amazed at just how easy RSS is and what it can do for you!
Picky Eater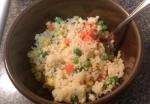 I've always been a picky eater. My regular diet consisted of hamburgers & fries, pizza, hotdogs, grilled cheese sandwiches, and donuts... lots and lots